---
---
INDUSTRIAL AUTOMATION PRODUCTS
SENSORS - VISION - PLC'S - TIMERS - COUNTERS - SSR'S
---

Industrial Automation, Omron Electronics LLC is the US-based division of Omron Corporation's Industrial Automation business, a world-class manufacturer of industrial automation products with over 75 years of success. We support machine builders and OEMs across the United States with sensing and control technologies that help you deliver more capable and profitable machines in less time. We are dedicated to developing, manufacturing and supporting automation that improves the quality and efficiency of everything you make. Through collaboration with customers, we define objectives, identify problems and recommend/implement innovative solutions to help you achieve success. We strive to be your trusted partner in automation.
---


Hirschmann Electronics, Automation and Networks Solutions Division is a multi-national manufacturer of Automation and Network Solutions hardware and software made up of two business units.
The Industrial Networking Business Unit provides the broadest line of industrial Ethernet products available today including transceivers, hubs, unmanaged and managed switches, and network management software. There is also a complete line of fiber interface products. Hirschmann was one of the early pioneers of Ethernet and now specializes exclusively in factory, process, and transportation automation applications.
The Industrial Connector Business Unit has been a pioneer of industrial connector products for over seven decades: from the alligator clip in 1951 to the comprehensive line of standard and custom industrial cordsets and field installable connectors of today.
---


Systematic Technology The Lutze Group of Companies has been developing and manufacturing control components and solutions for over 40 years.
Lutze Inc. is the North American member of the Lutze Group and responsible for the North American market place.
Our broad product offering enables us to create customer specific control solutions for automation and control.
---
INDUSTRIAL HEATING, CONTROL & SENSING PRODUCTS
IMMERSION &CARTRIDGE HEATERS - THERMOCOUPLES - CONTROLLERS - HEAT TRACE
---


First in electric heat Since 1915, when Edwin L. Wiegand introduced the very first metal sheathed electrical heating element to the world, Chromalox has pioneered new ways to efficiently apply electrical heat to air, gas, liquid and solids. This emphasis on new products and applications continues today.
The broadest product line We make more kinds of heating elements, sensors and controls, for more kinds of processes, and for more industries, than anyone in the world. In one catalog you can find an enormous range of capability- from TRI tubular heaters and CIR cartridge heaters all the way up to COS, OTCS, and Microtherm heat transfer systems. Conduct process heating with NWH and GCH circulation heaters, TMI and TMSS immersion heaters, SRL and MI heat tracing cable, ADH and CAB duct heaters, or FTS and OTF finned elements. Keep spaces warm with LUH, CXH, HCH, and the Dragon comfort heaters. Complete the solution with a full line of process and power controls - try the 2104 and 3101 controllers, 4468 or 4430 control panels, or 7280 and 4115 SCR's. This enormous breadth of products means more solutions for any given heating problem. Whether you're heating air, gas, liquid, or solids, with over 5,000 different heating products in stock, we can do it all.
80 years of unmatched quality Over a span of more than 80 years, we've built a reputation for high quality, dependability, and long-lasting value. Our goal is to continuously improve upon this reputation, with the ultimate commitment of zero defects. To do this, we start by using only the best raw materials available, fit to be made into Chromalox elements, sensors, controls and systems.
---


Tempco Electric Heater Corporation was founded by Fermin Adames, President, in August of 1972 to manufacture electric heating elements for a wide range of industrial and commercial applications.
Tempco's initial manufacturing facility consisted of 1,500 square feet and three employees. The first manufactured products were Hi-Density and Low Density cartridge heaters and "Duraband," a patented mica insulated band heater.
During the Company's early years, Mr. Adames made a commitment to an ongoing program for the research and development of new and improved products, thus broadening our product line on a yearly basis in order to satisfy the diversified market area in which various types of heating elements are used.
Today we manufacture heating elements and thermocouples for hundreds of applications in thousands of design variations. Some of our products were original developments in the industry, for which Tempco holds patents. Many of our manufactured products are UL certified and CSA recognized.
In addition to our standard product line, in early 1982, we set up a modern full-service nonferrous foundry and machine shop for making aluminum and bronze cast-in heaters, utilizing the permanent mold and no-bake sand processes.
---


Pyromation provides a complete line of Temperature Sensors including Thermocouples, MgO Insulated Sensors, RTD Assemblies, Food and Dairy Sensors, Thermowell Assemblies, Special Purpose Sensors, Thermocouple Wire, Accessories and Instruments. Inquiries are invited for the standard components and assembly styles, as well as for special materials and constructions for use in difficult process applications.
---
AC & DC - STEPPING - SERVO CONTROLS & DRIVES
---


Omron's energy-efficient AC drives offer simple-to-apply advanced functionality and high reliability to make your plant easier to operate. Models are available to meet the needs of simple to the most demanding motor control applications.
---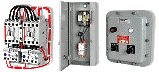 Sprecher + Schuh offers a wide range of low-voltage industrial control products, including contactors, a variety of relays, starters, push buttons, switches, terminals and controllers, to name a few. All of our products are crafted with precision and tested rigorously for performance – far exceeding industry standards. Moving forward, we continue in the path of Carl and Heinrich, constantly seeking innovative ways to provide solutions for our customers. It is by this philosophy that Sprecher + Schuh has come to be the industrial control manufacturer of choice for many customers around the globe seeking quality, reliability, and a name they can trust.
---

Moeller Electric Corporation is a world-renowned, full line manufacturer of industrial electric and electronic controls and systems. Moeller has earned a worldwide reputation for high quality engineering and ecologically sensitive manufacturing of components, engineering assemblies and enclosures.
Already a well-known leader in control and automation markets for our circuit breakers, motor control components, custom-built control assemblies, motor control centers, and programmable logic controllers (PLC's), we are now committed to expanding our technological leadership in power distribution as well.
---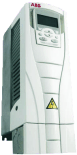 ABB drives for industry In order to meet the requirements of our different customers, ABB offers a wide range of segment and application specific solutions, ranging from pump and HVAC applications to demanding crane and marine solutions.
---


Zero-Max has been an industry leading manufacturer of power transmission components for over 50 years. By being responsive to customer's needs with innovative design and exceptional service, Zero-Max has grown into a worldwide solution provider or power transmission component products.
---
POWERLINE - 1-800-550-POWER